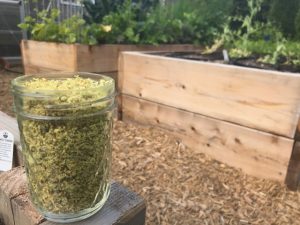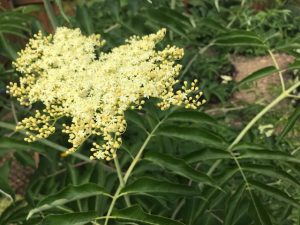 These first two pictures are my magnificent elderberry bush. The first picture is my harvest of elder flowers. I store them in a mason jar to use throughout the year. Elder flower is a diaphoretic herb that I love to use when anyone gets a fever. It is mild tasting and does a fantastic job at supporting the body during a fever. The second picture is a picture of the elder flowers that I am leaving on the plant to become elderberries. Elderberry is my all-time favorite herb for colds and flu. Elderberry syrup is a staple at my house in the fall and winter and I love using my own berries from my garden!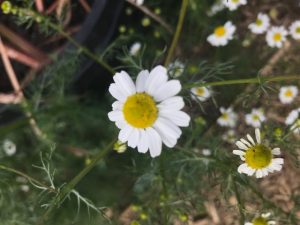 Lastly, here is a close up of my chamomile. Chamomile is such an easy plant to grow and in my garden, it re-seeds itself each year. I love using chamomile in teas and making an infused oil for scrapes and first aid. Chamomile is anti-inflammatory and smells lovely. One of my favorites in my garden.
Just a quick peek at some of the herbs I have blooming in my garden right now. More to come! Off to water!
Leave a comment below with what's blooming in your garden right now!