Hi Everyone! I hope you are having a great week. This week I've been working hard. I have been cleaning, going through things, and organizing my house. It's hard work while chasing around two little people!
Last night I decided that I needed some me time. My back was aching from all the lifting and organizing. I wanted to share the Relaxing Bath Tea that I made up. I hope that you can take some time for yourself and do something that is relaxing for you- whatever that is!
Bath teas are infusions that go in your bath. They often have olfactory benefits and can also help to soothe irritated muscles or skin (picture taking an oatmeal bath for itchy skin!) The purpose of my bath tea was for relaxing so I chose two of my favorite relaxing herbs. Can you guess? Lavender and Rose.
Lavender, whose botanical name is Lavendula angustifolia, is a beautiful herb. Budding in my garden right now, lavender is best know as relaxing, calming, and great smelling. I had some lavender buds left over from my harvest last year and thought they would be perfect to use in a bath.
Rose, whose botanical name is Rosa spp. has a lovely fragrance that instantly transports me to the Pacific Northwest where wild roses are abundant. The spp. after the botanical name simply means that there are many different species of roses that can be used from the Rosa genus. For my bath tea I used Rosa centifolia. Rose is best known for its affinity with the emotion love and the feeling of beauty. Rose has traditionally been used for many different women's health issues.
Both Rose and Lavender are incredibly fragrant and relaxing- two qualities that I was looking for in my bath tea. I hope you enjoy the recipe!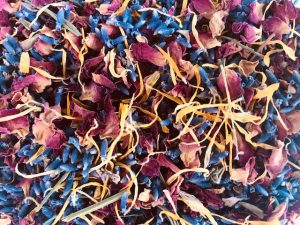 Relaxing Bath Tea
1 Cup Lavender Buds
1 Cup Rose buds/petals
1/2 Cup Calendula flowers
Mix together. Store in a mason jar out of direct sunlight. Can be used by placing 1/2 cup in a muslin bag and putting directly in the bath tub. Alternatively 1/2 cup could be infused in 2 cups boiling water in a french press then pour the liquid in the tub (please be careful not to pour boiling water on yourself; it is best to pour the infusion into the bath tub before you get in).
Drop a comment below if you make this bath tea or if you have other ideas to relax! Enjoy your week!